Philadelphia Event Alert: Grammy Awards 101 at Gershman Y, 4/12/11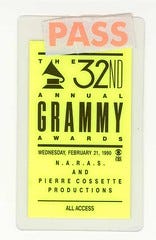 Could your next album qualify for a Grammy?
If you're in the Philadelphia region, my home chapter of NARAS is sponsoring a free "Grammy Awards 101" session for performers, producers, and music managers to learn everything about submitting your recordings for Grammy consideration. NARAS VP Bill Freimuth will be in town to walk you through the changes for this year's awards, especially some of the new submission and release deadlines. It's free, even if you're not a NARAS member, but you have to call 215-985-5411 to get your name on the list.
Date: Tuesday, April 12, 2011
Time: 7pm
Location: Gershman Hall, 401 S. Broad St., Philadelphia PA 19102